Boys Face Wash
Showing the single result
Showing the single result
Boys Face Wash
Boys Face Wash
Discover The Best Face Wash For Asian Boys Skin
Facial cleanser, toner, moisturizer. The C-T-M routine is the Holy Trinity of skincare regimen all over the world and is no longer fancy jargon. It's the mantra that keeps your skin happy, cared-for and glowing! While all steps have their advantages and are important, cleansing, as the base, needs to be done the right way, and with the right products that suit your skin type, schedule and habits.
This is not as difficult as it seems, given the staggering amount of confusing information about thousands of products, available online and in stores.
For Normal Skin
Biotique Bio Honey Gel Refreshing Face Foam
This one is an Ayurvedic formulated face cleansing gel that uses honey and extracts from the bark of the Arjun tree and euphorbia plant with wild turmeric, to dissolve residual makeup and helps your skin retain its glow and moisture.
For Oily Skin
If you find yourself combating oily skin on a daily basis, tea tree essential oil is your best friend. With its medicinal and healing properties, along with a combination of antioxidants, this cleanser is sure to keep your skin fresh and healthy.
For Dull Skin
Olay White Radiance Advanced Skin Brightening Face Wash
Olay is one of the country's top most trusted skincare brands. This advanced skin brightening face wash, in particular, penetrates your skin deeply and cleanses in from within, which helps in fading those stubborn dark and uneven spots, giving you a pearly radiance.
Best Face Wash For Men
Just the collection for women, Myntra features a sizable range of face washes for women too. So, without much do, we shall have a look at what the collection has to offer for men.
For Acne
Neutrogena Oil-Free Acne Face Wash
Neutrogena is undoubtedly one of the best products in the market, for both men and women. This one contains salicylic acid and other ingredients to help cleanse and hydrate your skin, keeping it fresh and preventing further breakouts. It's also residue, and oil free!
For Anti-Pollution
Garnier Men Oil Clear Deep Cleansing Face Wash
The hustle and bustle, and with it, the pollutants of city life clog our pores; and men's skin, being already prone to oiliness, bears the brunt of it. This one is a very affordable product from Garnier, enriched with mineral clay which helps wash away the grime, oil and impurities.
Buy The Best Face Washes Online At dudain
Once you've found the right face wash or you, head to Myntra and get the best prices and discounts on the internet! Don't just stop at face wash – there's a plethora of personal care products you can pick up too, like face masks, compact, foundations, eye makeup, entire makeup kits, and you're sure to find everything you're looking for!
Popular Searches
Body Wash, Hand Wash, Shower Gel, Soap, Shampoo, Hair Oil, Hair Gel, Hair Colour, Sanitizer, Body Scrub, Face Shield, Eyelashes, Bleach, Hair Serum, Mask, Make Up, Hair Dryer, Hair Straightener, Makeup Brush Set, Makeup Brushes, Concealer, Lip Balm, Body Lotion
List of top ten men face washes in Pakistan:
1. Fair and Lovely Max Fairness Face Wash
It is a very affordable foam based face wash which goes deep into the skin and removes all the dirt and impurities, revealing a visibly fair and clean face. This brand also makes fairness creams for men but can't comment on it but this whitening cleanser for men is very effective and it should be used twice daily for maximum results. This face wash also contains UV protection and leaves the skin looking clean, smooth and oil free.
2. Vaseline Men Whitening Face Wash: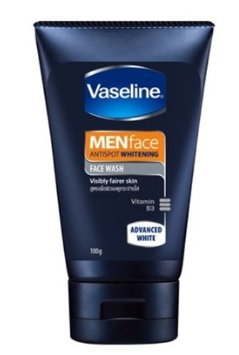 This is another very affordable face wash for men in the market. The face wash is gentle and goes deep to remove all the dirt and impurities. The consistency is rich and makes the skin feeling very nourished and moisturized. The skin looks clear and healthy after every wash as the face wash is enriched with antioxidants and Vitamin B3. It also helps in reducing and removing spots from the skin.
3. Garnier Men Intense Fresh Face Wash: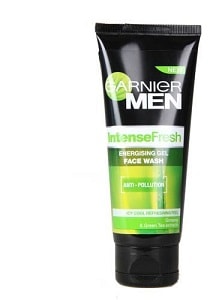 It is a gel based face wash which smells so refreshing and amazing. It has green tea extracts in it and is formulated with Ginseng extracts. It removes impurities and cleanses the pores very well. It is very hydrating and makes the skin look lighter and radiant thanks to its cell revival properties. It keeps the skin fresh and clean for the whole day and makes it so soft.
4. Nivea Advanced Whitening Dark Spot Reduction 10 in 1 Face Wash: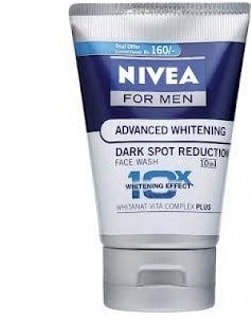 Nivea is one of the best skin care companies which produces really good products and this boys face wash is one of them. It works on the naturally tough skin of men and helps reduce acne and the lightens and eventually removes the dark spots on the skin. It deeply cleanses the skin and helps control oil for several hours. Skin looks incredible soft and smooth after using this. It is suitable for all skin types and is also very affordable.
5. Garnier Acno Fight 6 in 1 Pimple Clearing Face Wash: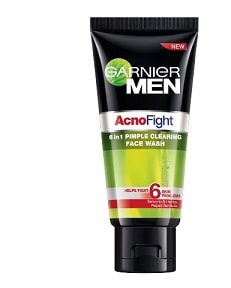 Pimples can be a big bother for both men and women. This facial cleanser by Garnier helps reduce redness and gets rid of the pimple by drying it out. It also helps tighten the pores and lighten dark marks and spots on the skin. Skin feels very fairer and refreshed and energized due to the presence of Menthol and lemon in the face wash. It also helps control excessive oil in mand is a perfect choice for oily, pimple prone men.
6. Garnier Men Oil Clear Deep Cleansing Face Wash:
This is yet again another very affordable face wash for men in India which helps them control excess oil on their skin. The face wash is enriched with mineral clay which helps wash away all the skin dirt, oil and impurities which eventually lead to pimple formations. It helps calm down skin thanks to the presence of cyro-menthol and gives fresh, radiant and bright skin.
7. Neutrogena Men Skin Clearing Acne Wash Face Wash: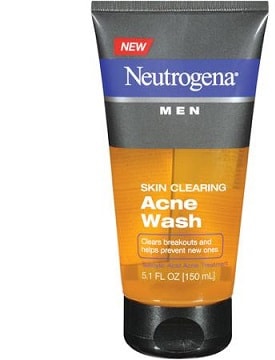 This face wash from Neutrogena is a bit on the higher price side. It is an anti acne and pimple clearing face wash which goes deep into the skin and clears out all the pores and prevents pimple break outs. It also removes oil and helps control it throughout the day. It contains Salicylic acid which is a wonderful agent that helps reduce the production of pimples on men's skin. A good choice for boys with very oily skin.
8. The Body Shop For Men Maca Root Face Wash: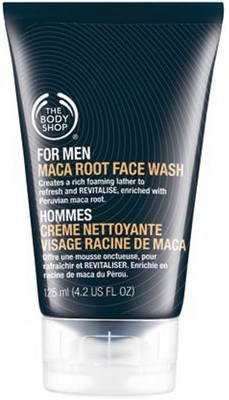 This is another face wash with a higher price tag but is so worth it as it leaves the skin so revived, refreshed and squeaky clean and soft. It goes deep within and helps boost skin vitality and washes away all the skin impurities. The men facial cleanser is enriched with the goodness of Maca Root, Brazil Nut, Glycerine and Aqua which helps the skin look renewed and refreshed and helps in giving a bright skin complexion
9. O3+ Men Tea Tree Mela Derm Cleansing Gel Face Wash:

This men face wash contains all the goodness of tea tree extracts and aloe vera which help calm the skin down and revive dull skin. It helps improve the skin's appearance and texture by washing all the dead skin cells and deeply cleans the pores. It is also very affordable.
10. Nivea Advanced Whitening Oil Control 10 in 1 Face Wash:
This is one of the best face washes available in the Indian market for men with oily skin that helps clear out all the excess oil that leads to pimples. It also helps eliminate all the pimple causing bacteria and deeply cleans out the pores. It also helps in the reduction of dark spots, making the skin lighter, brighter and fairer!